The Homebody
Yes, I really do have 7 children from the same wife. (Notice how Jake, Matthew, and I are serious about our family photos. No goofing off by the Schaeffer men!!)

The Results
Converted 75% of the Room:
Greg & Julie Alexander run a non-profit called The Alexander House
Wanted to launch a for-profit coaching program
Book sales were not producing the revenue they needed
Opt-ins at speaking engagements were anemic
75% conversion rate—collected 114 opt-ins—at their first event
Got 9 emotional, sincere video testimonials to help them market future events and programs
Raised Prices & Leads Exploded:
Website opt-ins increased 383% the first month and remained over 300% the second month
Raised prices on various products up to 1,000%
Streamlined and simplified product offerings to make sales easier for her prospects
Raised prices on her membership program 231%
Membership launch resulted in 54% growth during the first 72 hours
New recurring membership gave her $22,000 extra on top of her coaching investment
Daycare Added $250k To Their Bottom Line:
Increased Wordpress website rankings
Increased opt-ins
Increased referrals
Streamlined tours

Reduced disruptions in the classrooms
Increased security on the campus
Created competition among parents

Filled 22 vacant spots
Added $250,000 to their annual bottom line
All done within 87 days
What We Believe
We believe in helping professional salespeople, sales managers, business owners and entrepreneurs find the exact tools and programs they need to grow.
We believe your time is valuable.
We believe low quality solutions are never a good value.
We believe quick fixes are quick for a reason.
We believe in giving you back your money when something's not right and we can't fix it.
We believe business is more fun when your tools are running fast, running smoothly, and making you money.
We believe you don't have to be a pushy, sleazy jerk to make a lot of sales.
We believe you have an inner child that wants to make people smile.
We believe that making deep human connections is good for you.
We believe in camp fires and sipping whiskey.
We believe you'd be happier if you stared out the window more.
We believe in delivering a powerful message in a powerful manner.
We believe anyone can be great at generating inbound sales, even you. And we believe you were born to grow.
The Air Force Veteran
That's me in the middle on May 27, 1992 at my graduation from USAFA. The guy on the right was in my squadron and our names both end in "S" so he had just walked off the stage in front of me. The guy on the left is a full Colonel still in the Air Force and was the best man in my wedding and I was the best man in his. He left his seat to come see me as I walked off stage and The Denver Post snapped this photo as we were doing the "It's time to part-ay, par-tay-ay" dance. (I'm not kidding.)
MORE About The Sales Whisperer®
Ruthlessly Pragmatic sales trainer, marketing consultant, keynote speaker, copywriter, HubSpot Gold Partner, Keap CRM / Infusionsoft expert, Doer. Nothing happens until a sale is made. A sale cannot be made until a prospect has been identified. A prospect cannot be identified until a business owner informs the marketplace that they are in business with a valuable offering. Each step must be carefully crafted and integrated and then automated in order to create a business that sustains you vs. a service that drains you. I help you build all of that.
Sales Trainer, Inbound Marketing Strategist, HubSpot Partner, and Infusionsoft Partner of the Year
Since 1994 I've looked for ways to drive sales, and I've learned that selling is easier and more valuable to both the sales person and the client if good marketing makes the client aware of you and then contacts you to buy because none of us likes to be "sold."
Touring HubSpot (12 of 12 Certifications) | Infusionsoft Partner of the Year | Speaking at Ontraport
Although this is only one piece of the revenue-generation pipeline pie, I believe this piece deserves to be done right because it supports and enables a business' biggest investment: People.
But my take on sales and marketing differs from most. -Wes Schaeffer, The Sales Whisperer®
Wes Schaeffer President & CEOYou hear those stories of these 20-Something's down and out, sleeping on their friend's couch until they finally hit "rock bottom" and built this amazing business.
That wasn't me.
I did "what I was supposed to."
I went to college, served in the Air Force, got married, raised a family, got "a good job" making over $100,000 a year traveling the country and the world and I was not happy.
The economy kept changing, my jobs kept changing, my travel kept changing, but the lack-of-vision of my bosses didn't.
It was always "smile and dial" and "throw enough sh*t at the wall and something will stick." With a wife, a mortgage, 6 kids and a dog I couldn't hit "rock bottom" in the traditional sense, but I did hit it as far as job / career satisfaction was concerned.
That's when I decided to do something about it. Now I make my living helping others do the same.
The Sales Whisperer® is a potpourri of strong-willed, opinionated, dedicated coders, developers, trainers, writers, marketers and curious entrepreneurs.
We work incessantly to develop, find, create, launch, test and perfect the coolest, most effective, easiest to use and maintain and leverage tools, from software to hosting to marketing platforms, to help professional salespeople, sales managers, business owners and entrepreneurs grow.
Our success is directly tied to yours. In other words, we're in this together.
"Imagination is more important than knowledge. For knowledge is limited to all we now know and understand, while imagination embraces the entire world, and all there ever will be to know and understand." Albert Einstein
Technologies We Use
There are a LOT of choices.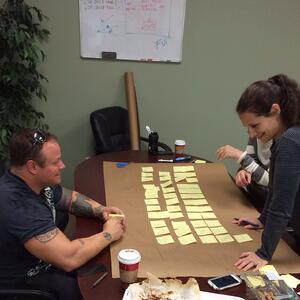 We've seen, purchased, tried, and tested more than quite a few, for our business and for our clients.
In all honesty, it's about your team size, your business model, and budget. (Going back to pen and paper is never a bad idea for getting ideas out of your head!)
We picked some we really like that are specifically designed for small to medium sized businesses, took out the marketing fluff, and said what we think.
View our recommended resources page or...