The Transparent Sales Leader, With Todd Caponi
Sep 08, 2022
Podcast Template
Knew leadership was his thing

Got promoted

Was excited...then reality hit him that he didn't have processes to be a sales leader

Mapped out his own responsibilities and has been following them for 14 years

Individual contributors must change and nurture others

If you want to be an individual contributor forever, there's no shame in that game

85% of us skip the 5-star reviews and go read the bad reviews
A product with an average score of 4.2 to 4.5 is optimal
---
Related episodes and posts
---
Embrace the truth.
Accentuate the negative.
Address the elephant in the room.
"Sticker shock" is not a good concept.
Lose fast.
Hearing "no" early, is a win.
IKEA is the #1 furniture store for 14 years.
We don't buy when we're convinced, we buy when we can predict. "Is the juice worth the squeeze?"
We're biased on our reward by the journey.
We don't buy when we're convinced, we buy when we can predict."
"Buyers know more nowadays." 1912, "Salesmanship"
2015, Forrester, State of Sales, "One million B2B sales jobs will go away by 2020."
The opposite happened.
More information has made it harder for buyers.
Salespeople must do the homework for their buyers.
When Toys R Us went out of business they had two kids, 7 and 9.
His kids were crying because they had so many options and they could never get comfortable with their decision.
"Payoff: The Hidden Logic That Shapes Our Motivations," Dan Ariely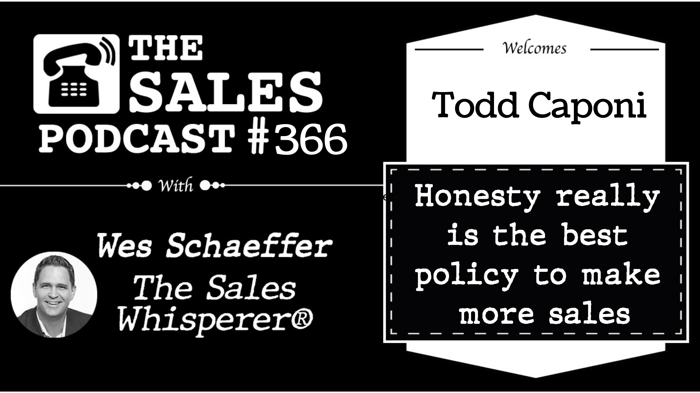 Engaged employees are gold for your business.
The science of intrinsic inspiration.
Your salespeople are coin-operated is right, but you're doing it wrong.
Recognize and grow your people.
PRAISE

Predictability
Recognition
Aim
Independence
Security
Equitability

Obvious, entertaining, actionable.
GUEST INFO:
PODCAST INFO:
SUPPORT & CONNECT:
Check out the sponsors above, it's the best way to support this podcast