The Small Business CRM Dirty Dozen (Not All CRMs Are Created Equally)
Sep 04, 2019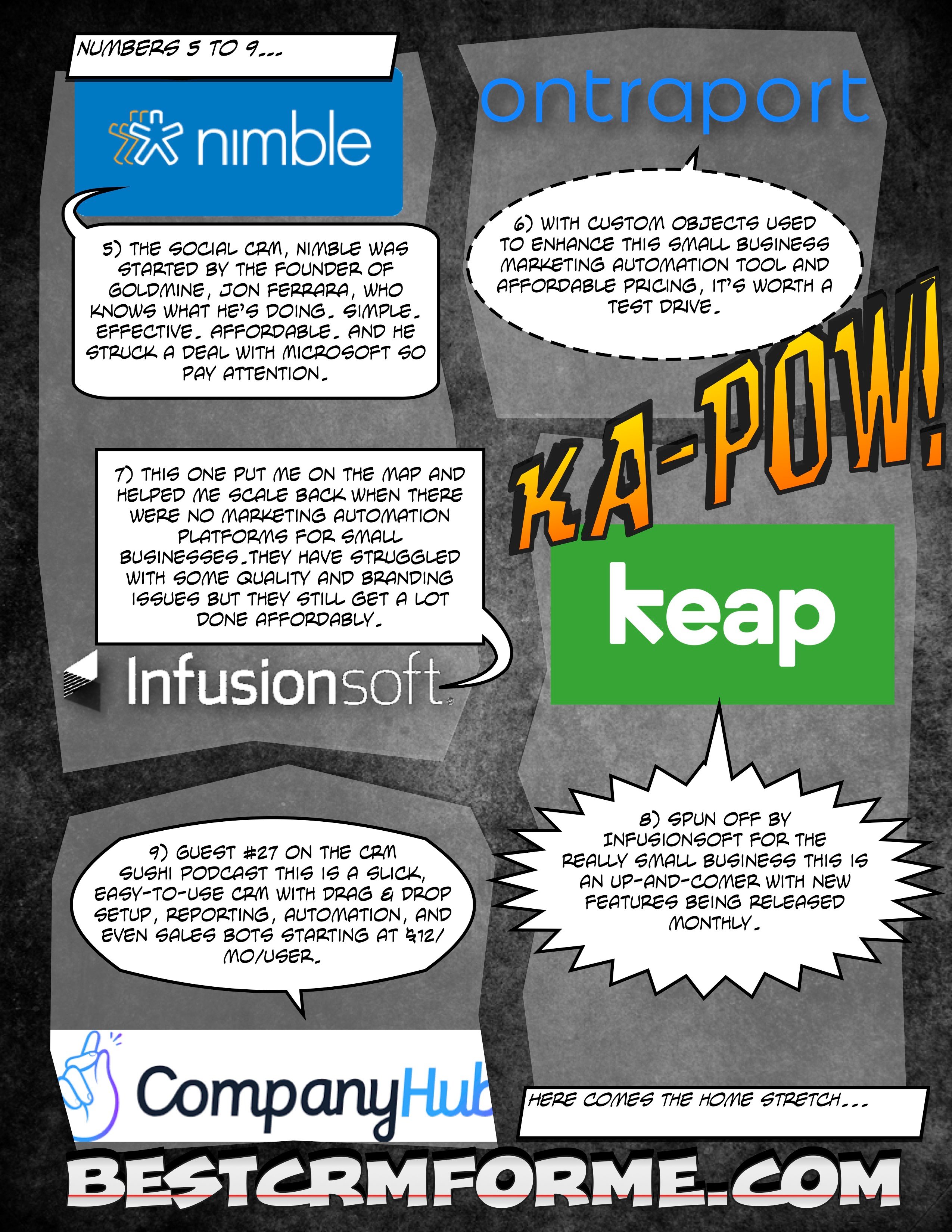 The Small Business CRM Dirty Dozen
No company needs a CRM. All companies need great processes that are streamlined and automated as much as possible, with a good CRM at the heart of that process. CRMs can and should be a component of your sales and marketing automation plan, but CRMs are little more than a Rolodex in the sky without automation connected to it.
This piece looks at the baker's dozen of CRMs out there including:
Salesforce.com
The big company CRM built by a big company with marketing that tricks small businesses into thinking it's for them, too.
Pipedrive
Elegant, responsive, clean, affordable CRM.
Zoho CRM
This was the first CRM I started using when I launched The Sales Whisperer® in 2006. Their free to low-cost solution is quite good and they've added some automation and workflows to make it a nice tool. I just prefer U.S.-based support and more robust automation and reporting, not to mention email marketing.

Microsoft Dynamics
Like all things Microsoft you won't get fired for buying them, but what kind of hidden fees and small print must you endure? Besides, what are they hiding in that massive contract?
Nimble: The founder of Goldmine, Jon Ferrara, started Nimble and at $22/mo I recommend it even as an overlay to any other tool you may be using because it really is a "Social CRM." You need to demo Nimble for free. Oh yeah, Jon was a repeat guest on The Sales Podcast.
Ontraport
At the same time I was diving into HubSpot back in September 2014 I also got certified on Ontraport and am impressed by their growth ever since. Ontraport is truly focused on the small business / speaker / coach / consultant niche and the many tools they provide at no extra charge is impressive including SMS, direct mail, membership plugin to Wordpress, Facebook Custom Audience integration, higher limits on contacts and emails than any of these other platforms, and more. While they do not offer a pure CRM in the traditional sense, with their Custom Objects you can create any structure with any fields that trigger any automation you desire, which is why I include them in this CRM Dirty Dozen review.
Infusionsoft
I've used Infusionsoft since 2008, and while the CRM is not best-of-class, the way they tie in their CRM into their email marketing, sales automation, and eCommerce makes it a fantastic solution for the SMB space.
Keap CRM
This is a new spinoff by Infusionsoft for the solo-preneur/speaker/author/coach but a promising roadmap for the SMB space. Starting at just $99/mo it's worth taking a close look at.
ActiveCampaign
This team has an affordable pricing model with an infinitely scalable platform. While you can get a bit lost in the weeds as you customize everything, the fast-growing team is quite responsive and supportive to your needs, so if you are on a tight budget but need marketing automation with your CRM, ActiveCampaign is worth considering. Check out their review on The CRM Sushi Podcast.
HubSpot
After leveraging Infusionsoft solely from 2008 to 2014, I made the switch to HubSpot for my primary CRM and inbound marketing/marketing automation platform. Then, about a year later I moved this site from Wordpress to HubSpot. Yes, it's more money but it does a lot more than Infusionsoft and you just can't beat 24/7 live phone support. (But does HubSpot really cost more than Infusionsoft?)

If you are focused on leveraging inbound marketing to generate inbound sales, then HubSpot really is the Cadillac in the space. I looked at HubSpot for five years beginning in July of 2009 and started making the switch in September of 2014. Since I am a partner of both Infusionsoft and HubSpot I still have data and processes running in each to help me stay current on both platforms, but you're reading this review on the HubSpot blogging / website CMS, which they call COS, and now that their CRM is free yet powerful, I'm using it more and more for my daily work.

If you'd like to discuss ways I can help you automate your sales and marketing please contact us today.
Now go sell something.