How To Make Your Keap CRM Marketing Automation Plan
Jul 16, 2022
Plan Your Work and Work Your Plan
What good is software if you don't know how to use it?
That's why I created the Process Before Login video and PDF to help you make the best of whatever sales and marketing automation platform you own.
Whether you buy HubSpot, Ontraport or Keap, the first thing we do is schedule your Kickstart Call.
On that call, we'll begin building your Marketing Automation Plan (M.A.P.)
Just like it sounds, this is the plan we will construct and follow that will enable you to automate your marketing, lead generation, lead nurturing, sales conversions, service and delivery, referral and testimonial gathering, as well as upsells to really explode your bottom line.
The overall guideline for your M.A.P. is Keap's Perfect Customer Lifecycle.
Keap Perfect Customer Lifecycle Meets The ABCDE Sales and Marketing Automation Cycle
Back in the day...Keap had The Perfect Customer Lifecycle, which followed 7 stages:
Attract Traffic

:

Keap has never focused on how you get traffic to your site. They basically take over once you have visitors, and they help you capture, nurture, convert, and retain them, which is obviously valuable.
That being said, I like the blogging, SEO, landing page creation, smart content, CTA creation, and reporting features of the HubSpot CMS. (That's why I switched my nearly 1,200-page site from WordPress to HubSpot, and I wrote about it in this WordPress vs HubSpot post.)

Capture Leads

:

Create a free report or lead magnet or offer a webinar
Newsletters may still work (like The Weekly Whisper)
You could offer an easy way for people to subscribe to your podcast

Nurture Prospects

:

Once you have a prospect identified, you need to stay in touch with them
It's best to have a multi-media, multi-step sequence that includes

Email
Address (yes, direct mail still works...and prospects can't opt-out of mail!)
SMS / Text messaging
Phone (preferably their cell phone so you can send one-off texts. See how this guest on The CRM Sushi Podcast lets you manage corporate text messages for your sales team like Gmail and sync it with your CRM)

Convert the Lead

:

Professional salespeople know that the sale is only the halfway point
But you do have to convert your leads into paying clients. If you need some help, might I recommend my sales training program?

Deliver and Satisfy:

Unhappy clients are 3 to 21x more likely to complain
Refunds are crushing to your business and the morale of your team, so over-deliver and keep your new clients happy

Upsell:

While they have their wallets out...why not ask if they'd like fries with their order?
Happy customers who buy a computer from you may need a printer...or anti-virus software...or training...or a backup hard drive and/or offsite backup...or a new website...or training
It doesn't hurt to ask, but it can hurt your bottom line if you don't

Get Referrals:
The ABCDE Sales and Marketing Automation System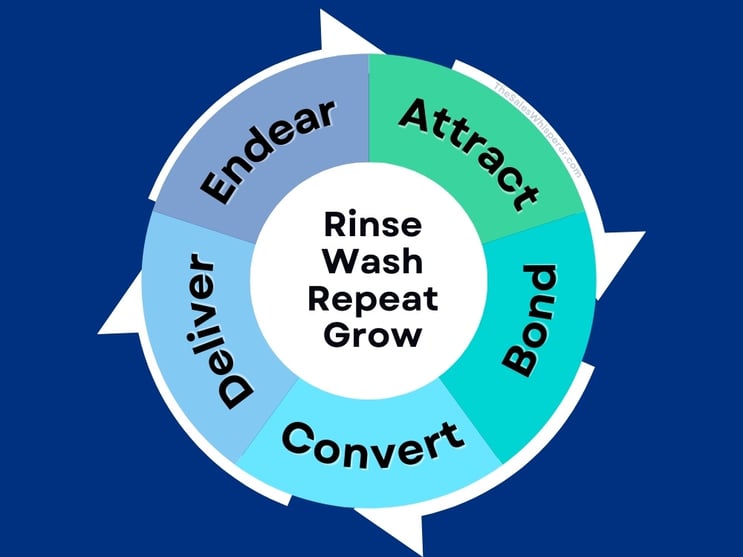 Your Marketing Automation Plan will help you document and then automate every one of these five, seven, or 37 steps we determine is what you need to make sure no leads, clients, or money fall through the cracks ever again.
If you still have questions, you can demo Infusionsoft here.
If you're ready to secure over $1,741 in bonuses and savings, you can Order Keap Today from me, and I'll help you secure your own Keap application at a savings compared to their published prices and throw in some helpful little bonuses that only my Infusionsoft clients receive that will help you grow your sales.
If you already have your own Keap application and need to get more out of it, just pick the block of time for my Keap Services that fits your budget at my Keap CRM Support page and get ready to get more leads, convert more sales and make more money...while you sleep.
Good Selling,
P.S. If you already have Keap and/or you'd like to earn as much as $500 for referring your friends, family, co-workers, etc. to us, please visit my CRM Referral page and lock in your referral fee.
P.P.S. Check out the Key to Keap CRM Mastery.